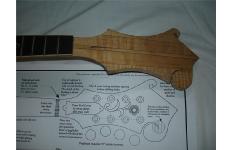 A luthier is a maker of stringed instruments. As you can see, most of our drawings are for luthiers. And while I have you, let me give you a few of my quick tips.

1) Make photocopies of your drawings, and paste them lightly on your wood. Then cutting them out is as simple as cutting on the lines.
2) Always complete the rest of the instrument before making the fret board. Sometimes, your scale length doesn't come out right. When this happens, you can easily run a custom fret scale (see our simple scaler software under "tools") and you can still salvage the instrument.
3) Use cheap wood when you are practicing. My first instrument used a two by four and a piece of shelf. It takes some practice before it is worth spending money on wood.

Enjoy!