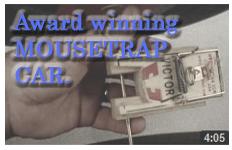 If you are looking for more information on the simple mousetrap car we presented on Youtube, here is the place. By popular demand, we now offer detailed drawings and kits so that you can build the car yourself. When built well, this car will easily travel across a school gymnasium on the power stored in one standard mousetrap.

For those of you have have just stumbled on this site, and wonder why anyone would care, this is popular because a lot of schools around the world have moustrap powered car competitions.



View the YouTube video.



Watch how to build the car.